Invisalign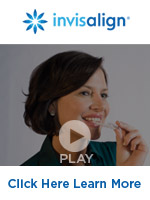 Experience an orthodontic treatment that is virtually invisible to those around you…
As one of the greatest advancements in orthodontic technology to date, Invisalign is a great choice for the vast majority of adults and teens. Invisalign is successful at treating crowding or excess spacing of teeth and can also be used to treat more complex cases such as over bites, under bites, and even cross bites.
Smile throughout your treatment with this lifestyle-friendly orthodontic system!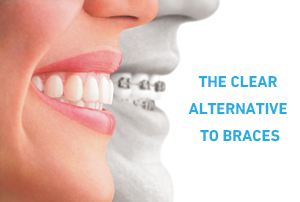 Utilizing a series of transparent aligners, the custom designed Invisalign system gently moves your smile into correct alignment with no uncomfortable and unsightly metal wires! The great thing about Invisalign is that it is 100% removable, and as such slips seamlessly into your regular lifestyle.
---
Look your best during and after treatment.
Is maintaining your professional appearance important to you? Are you ever asked to speak during a meeting in the public? Invisalign is nearly invisible and as such most people won't know you are straightening your teeth unless you tell them. After completing your treatment you'll also enjoy the added assurance of being able to express yourself with confidence and without being embarrassed or insecure about your teeth. The benefits of Invisalign include:
Removable:
Your aligners can be removed for special occasions, important meetings and for photographs
Your regular oral hygiene routine can be maintained by simply removing your aligners
A wide diet can be enjoyed by removing your aligners during meal times – enjoy your favourite crunchy and sticky foods throughout your orthodontic treatment!
Esthetically Appealing:
The Invisalign aligners are virtually invisible to those around you
Your aligner trays can be utilized to whiten and straighten your smile simultaneously
Comfortable
There are no metal wires or brackets to cut and irritate your lips and gums
No uncomfortable tightening visits are required – simply pop in to our office for an assessment and to pick up your new aligners!
The Invisalign orthodontic system is an ideal choice for many candidates who have put off straightening their smile due to esthetic concerns.