Covid Clean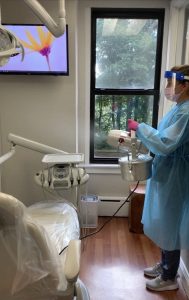 We created our Clean Commitment to reassure our patients and Team Members that their health and safety are always our highest priority. Our efforts detailed below explain our response to COVID-19. Our enhanced cleaning practice for hygiene and sanitizing exceed our already high standards. We are meeting or exceeding the requirements of the CDC.
Entry and Public Area
Feel free to call us ten minutes before your appointment to see if the waiting room is clear for entry. The lobby and common areas of the building are being frequently sterilized. Upon arrival to 30 Central Park South, we lightly suggest taking the stairs just past the elevator on the right. Masks are required in the office and please sterilize your hands upon entry to the waiting room. The staff has the appropriate PPE for their roles and various procedures. Patients and staff must practice social physical distancing. Staying at least six feet apart from others will help minimize the risk. Patients and staff will have their temperature taken and screened for symptoms of COVID.
The office has been fully and safely open since June 1, 2020 with safety protocols and plans in place to help reduce the transmission of COVID-19. We continue to operate under Our Clean Commitment, which was designed to enhance safety and minimize risk to our patients and staff. These guidelines continue to be adjusted based on current recommendations of health officials and local, state and federal governments.
To improve the air quality in the office, the number of air filters and frequency of air filter replacement have been increased. We have maximized our fresh-air intake to increase external air flow into the office with installation of new windows. We are also using multiple hospital-grade HEPA and PECO filters.
Above all, we have increased the frequency of routine cleaning in the common areas and have adjusted our already rigorous protocols for cleaning our operatory areas, meeting or exceeding CDC guidelines. This includes the use of disinfectants that are EPA registered for emerging viral pathogens. We also utilize a commercial fogger machine to decontaminate hard surfaces. Hand sanitizers and sanitizing wipes have been provided throughout the office.
The office is operating in the same caring manner and at the highest professional standards. We require the patients and staff to take these protocols seriously, for the safety of all. With cooperation, we can create an atmosphere where all our patients can actually enjoy a much deserved respite from their daily routine.